Blender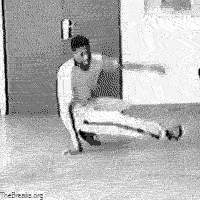 Blender, footwork pattern, alternating inside sweeps where the body's weight is shifted back and forth between the arms.
History
A member of the London All Stars can be seen doing blenders in 1985 . The blender resembles the scissor in gymnastics.
Variations
Reverse Blender
Blender with front sweeps.
Toronto Blender
With the legs in front and the body supported by both arms, the lower legs are swung in circles, rotated at the knees. Developed by Gizmo .