Neckmove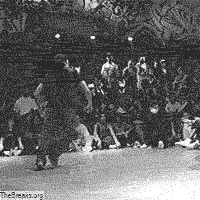 Neckmove, transition, a roll over the back of the neck from one shoulder to the other.
History
Mr. Freeze recalls seeing neckmoves in 1979 . Action did coindrops in 1983 . The neckmove often functions as a transition onto the back .
Variations
Coindrop
Also no hand neckmove. Neckmove from a standing position without the hands touching the ground.