Swipe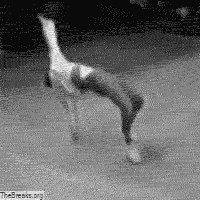 Swipe, power move, rotation of the upper body supported by the legs followed by a rotation of the lower body supported by the arms.
History
The swipe is one of the oldest power moves, entering breaking in the mid-1970s. It was developed by Spy in 1976 , evolving from the two step . The Zulus1 were also known to do swipes around this time, according to BOM5 . Mr. Freeze recalls seeing swipes in 1979 . It is mentioned in the first news article on breaking in 1981 . Beat Street features both the one-leg and two-leg variations .
A dance move resembling swipes is performed in the 1942 "Soundie" Caravan .
Variations
Baby Swipe
See two step.
Elbow Swipe
Also forearm swipe. Swipe on the forearms.
Head Swipe
See track.
One-Hand Swipe
Also one-arm swipe. Swipe where only one arm touches the ground.
One-Leg Swipe
Swipe where only one leg touches the ground.
Top Swipe
Also up swipe. Swipe started from a standing position.
Two-Leg Swipe
Swipe where both legs touch the ground nearly simultaneously.