Suicide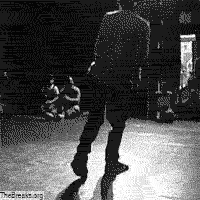 Suicide, class of moves that look crazy, dangerous, or painful. Suicides usually involve leaving the ground then landing on a part of the body other than the hands or feet.
History
The first moves that could be considered suicides were developed by the Zulus in the 1970s . Beaver relates, "Kusa had a famous move called the Jelly Roll...my brother... he had a move called the Flop....and these moves were similar...the Jelly Roll was a flip and land on your back...the Flop was a back flip land on your stomach" . The name "suicide" initially referred specifically to Frosty Freeze's jump into the air landing on his back (also called the backbreaker, death freeze drop) .
List of Suicides
There are many more suicides than those listed here.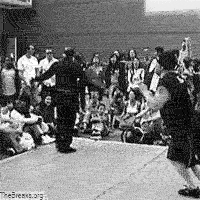 720 Suicide
Jump with two rotations about the body's long axis, landing on one's back. Done by Kujo in 1998 .
Airflare 1.5
See airflare.
Back Suicide
Also suicide, death freeze drop. Jump landing on one's back. Developed by Frosty Freeze by accident during an unsuccessful backflip attempt .
Coin drop
See drop.
Chest Backflip
Also flop. Backflip landing on one's chest. Developed by Poo Poo in the 1970s . Shuvan does a variation with a lot of height, while Kid Colombia does a gainer-like variation.
Front Suicide
Also jelly roll. Frontflip landing on one's back. Developed by Kusa in the 1970s . Powerful Pexter may have developed this move independently .
Knee Suicide