Lego Leg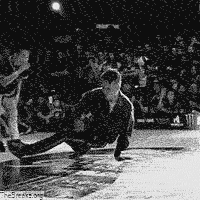 Lego Leg, or Leg-O-Leg, front twist, footwork technique resembling a blender with an inside hook.
History
The Lego leg was developed by Lego in 1994 . It evolved from the blender . Dyzee's demonstration of the "proper" form involves the opposite knee touching the ground . A similar move was done by Swift Rock in 1992 , resembling a threaded no hand sweep.
Variations
Deadleg
Lego leg with the blender direction reversed.